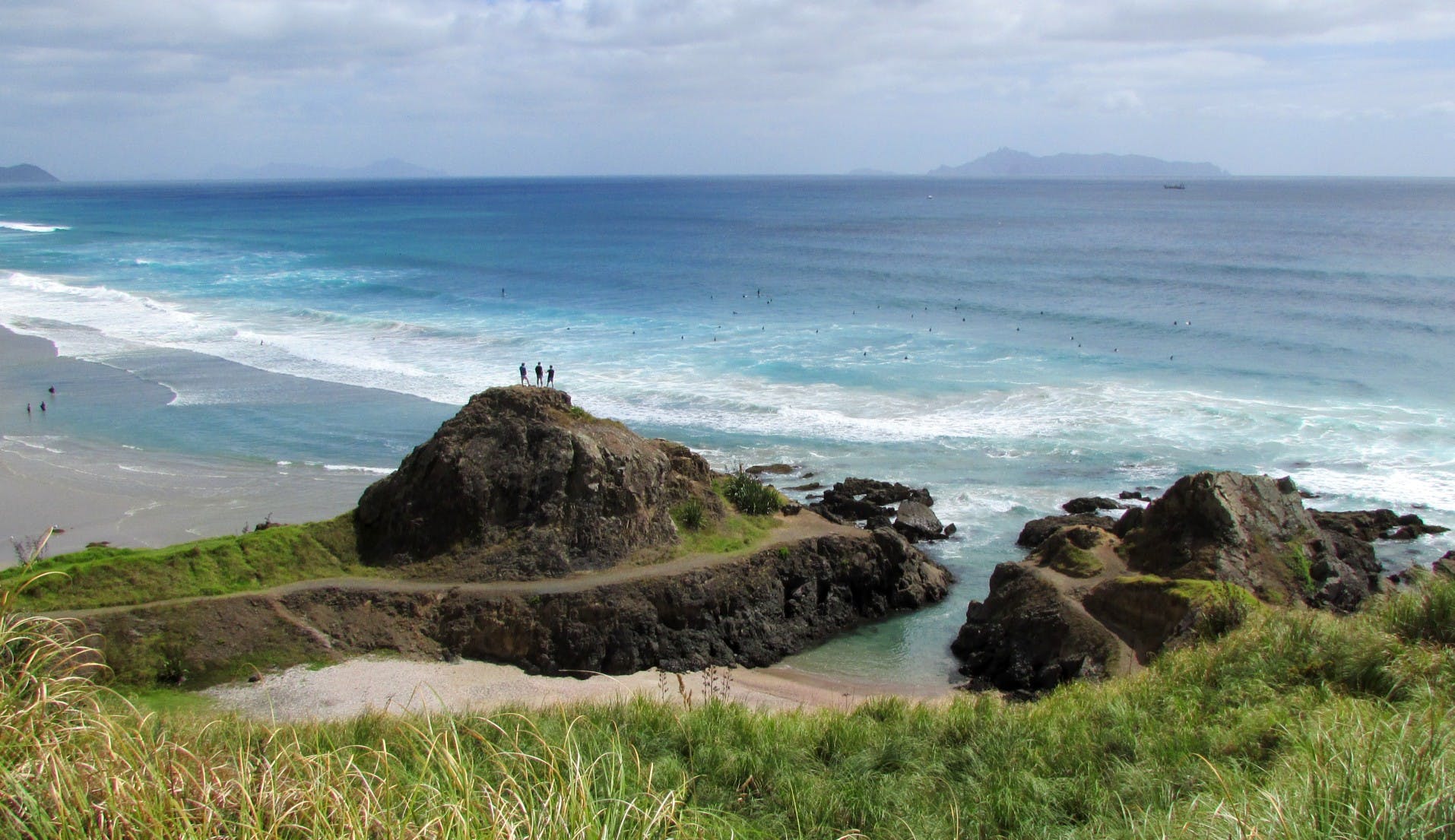 Te Arai
Only 60 minutes from Auckland's CBD, Te Arai is a small town on the East Coast of New Zealand's North Island and is our home break for surf lessons.
Whilst only a small town, there's certainly no shortage of things to do in the area; coastal walks (we recommend Mangawhai Cliff Walk), paddle-boarding, snorkelling, golf courses, vineyards, scenic picnic spots, the Matakana Markets, cafes, restaurants and most importantly – surf breaks.
With the best surfing for all abilities that the area has to offer being found in Te Arai, it's no surprise that people flock here each year. Whether you want to try your hand at surfing for the first time, or waiting for a bigger swell – Te Arai is a swell magnet, meaning year-round, consistent, fun waves for everyone.
You'll feel like you're a lifetime away from the hustle and bustle of Auckland, yet you don't even have to travel too far.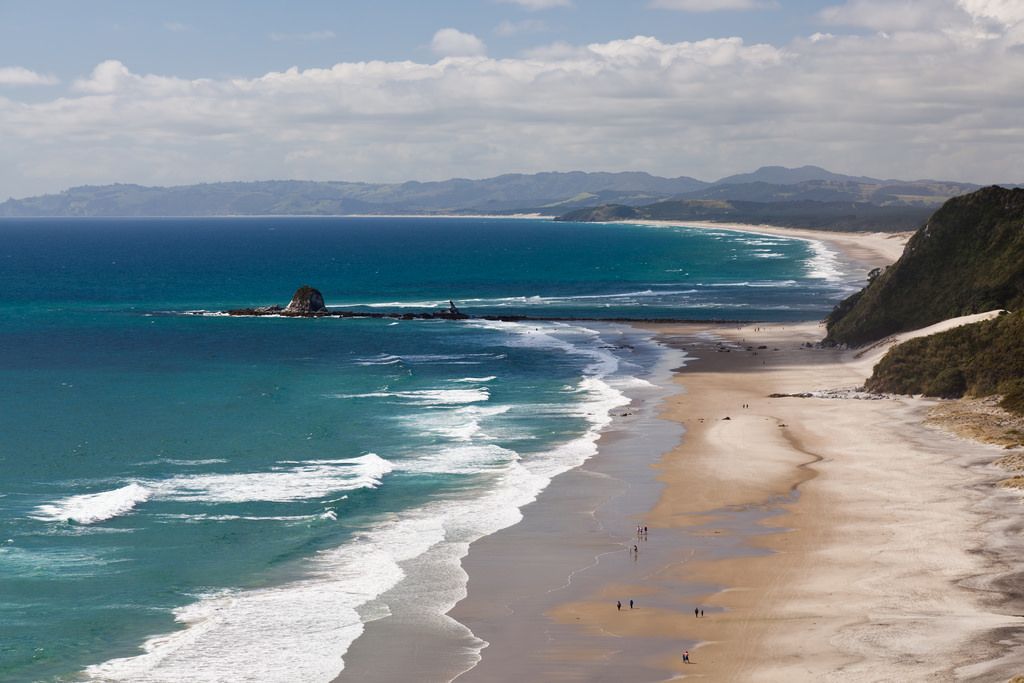 Mangawhai Heads
Mangawhai is located just an hour north of Auckland and has something very unique on offer for visitors; the option of a famous surf beach on one side of it's famous point (Sentinel Rock) or a peaceful harbour with still waters on the other! 
There's plenty to see and do around Mangawhai, from their scenic Cliff top walk, to the Mangawhai Village markets. There are even some incredible forest hikes such as the Tanekaha Forest Walk which offers waterfalls and stunning views.
What attracts us to Mangawhai the most however is the amazing Mangawhai Heads Beach. This beautiful strip of coastline offers year-round swell with clean, fun sized waves for most of the year. It's certainly one you don't want to miss!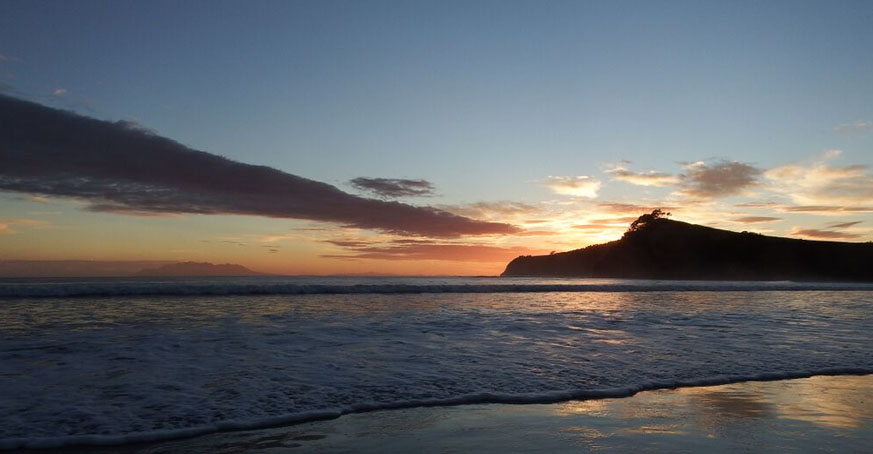 Omaha Beach
Omaha beach is ideally situated at the heart of the Matakana Coast, just under an hour's drive north of Auckland CBD.
Omaha Beach is the perfect location to immerse yourself in the surf and offers excellent conditions to learn to surf or improve your skills, with something to offer for every surfing ability.
Omaha's extensive white sand beach produces numerous beach breaks from north to south. At Omaha's northern end resides the region's most legendary surf break the "Omaha Bar". Just past the Bar is the entrance to the Whangateau Harbour, and the home of Omaha spit. This stretch of sand is an important area for shorebird conservation and is home to both resident and migratory species; check out the Omaha Shore Bird Protection Society for more details.
Omaha beach has an active Surf Life Saving Club (OSLSC), and the main beach car park offers toilet and changing facilities as well as several shops and eateries; a perfect getaway for all the family.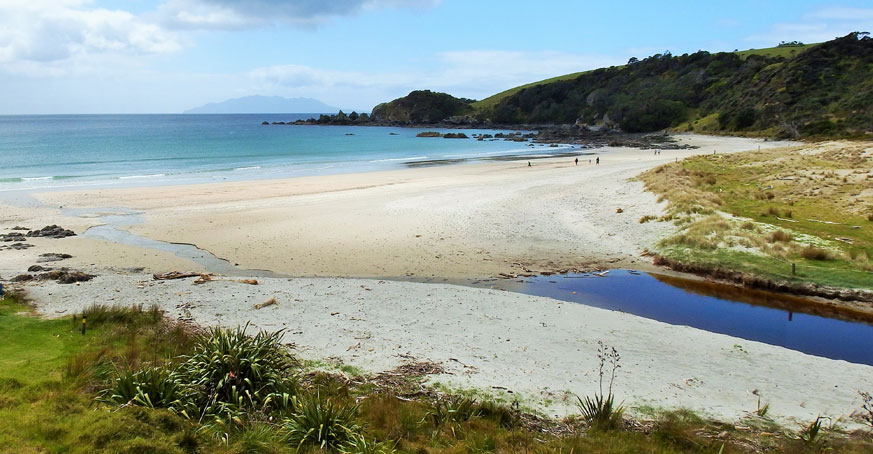 Tawharanui
Tawharanui Regional Park hosts the lesser known marine reserve of the Matakana region. Tawharanui's reserve is only a few years younger than Goat Island having been protection since July 1981 as a Marine Park and finally receiving full Marine Reserve status in September 2011.
What Tawharanui lacks in fame is certainly made up for in sheer beauty and abundance of wildlife. It is the only example on mainland NZ where both a mainland pest free sanctuary and a marine reserve are joined as one; providing continuous protection to our native species both on land and in the ocean.
Just 1 hour's drive north of Auckland, you can snorkel with the crays to the sound of saddelbacks!
Tawharanui's success is down to a continued collaboration effort between Auckland Council, Tawharanui's very own community group and lots of volunteers. To learn more about volunteer opportunities at Tawharanui click the link: Tawharanui Open Sanctuary (TOSSI) .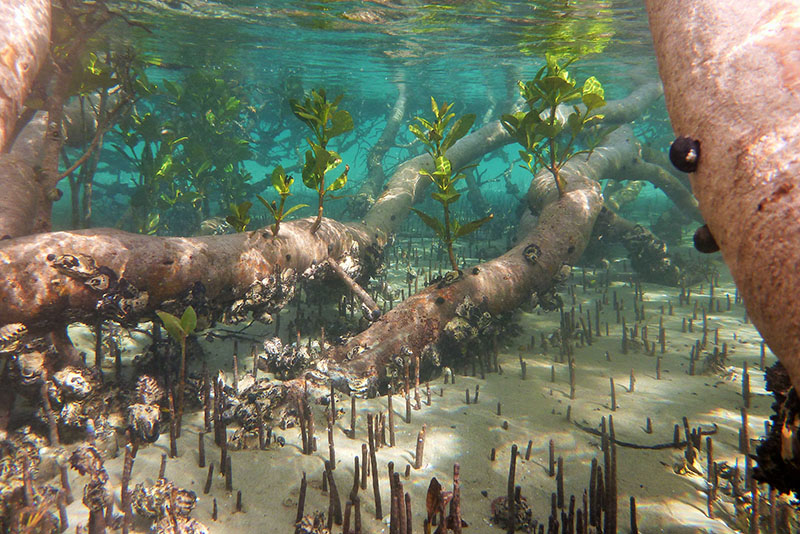 Whangateau
Whangateau Harbour is undoubtedly the Matakana Coast's best kept secret. Just 5 minutes' drive past Matakana Village awaits the magical world of the mangroves. Accessed from the small settlement of Whangateau, the harbour has been described as the most important and highly valued estuary on Auckland's East Coast and quite possibly in New Zealand.
Whangateau Harbour's fully protected waters provide perfect snorkeling conditions, allowing snorkelers to witness the unique marine life associated with tidal estuaries and mature mangrove forests. Water clarity or visibility in the harbour is consistently very good and quite often crystal clear. This is due to Whangateau's healthy cockle populations that can actually be seen filtering "cleaning" the water as you snorkel past them.
Mangrove forests and estuaries are natural nursery areas for juvenile fish and other marine life. Huge schools of fish large and small are often sighted hiding within the mangroves by snorkelers exploring the many hidden trails through its forest.
Check out Whangateau Harbourcare for all of Whangateau's latest news and updates.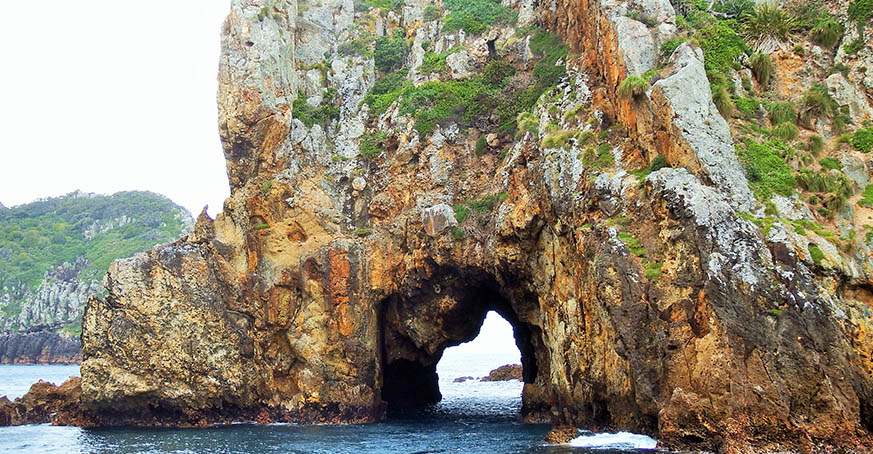 Poor Knights
The Poor Knight Islands are situated 30 km north east off the Tutukaka Coast. This offshore marine reserve was created in 1981 and its characteristic clear blue waters, rugged cliffs and abundant marine life make it one of the world's most acclaimed dive and snorkel destinations.
Situated in the direct path of the warm East Auckland Current (EAC) the water around the island's are often several degrees warmer than at the coast. The EAC is responsible for regular encounters with tropical visitors such as green turtles and manta rays. Arch ways, pinnacles and overhangs provide homes for thousands of fish, and the islands themselves are completely pest free and protected.
The Tutukaka Coast is the gateway to the Poor Knights Islands, just 45 minutes' drive from Whangarei Town Centre. This pristine stretch of coast is home to secluded bays, expansive white sand beaches, crystal clear waters and pumping surf. All of which are surrounded by native bush and spectacular coastal vistas, the perfect location for a multi-day Saltwater Adventure.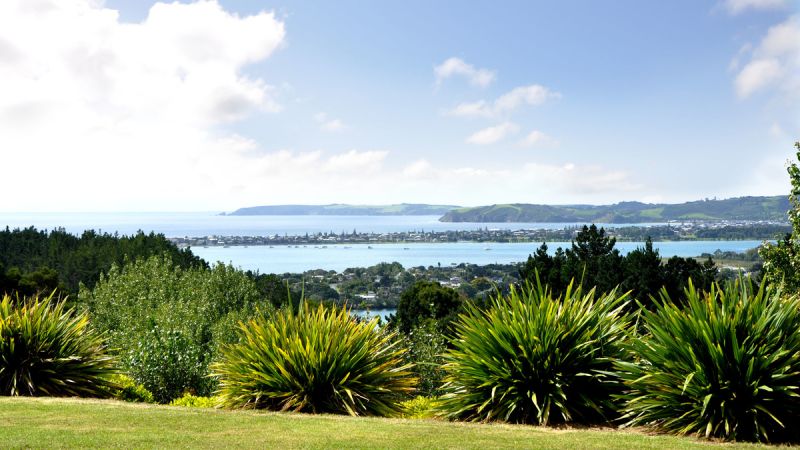 Matakana
Less than 1 hour's drive north of Auckland City, the picturesque Matakana Coast has something for everyone. Matakana Village boasts a fantastic range of cafes and eateries, art galleries and shopping facilities. In addition to award-winning vineyards, cinema and weekend markets.
Matakana's pristine white sand beaches and secluded rocky coves feature an array of quality surf spots. Furthermore, the expansive shorelines of both Omaha and Pakiri Beaches consistently offer a collection of surf breaks for all abilities.
Below the surface the Matakana Coast continues to deliver, being a spectacular snorkel destination.
Hosting two of New Zealand's most acclaimed Marine Reserves Goat Island and Tāwharanui. In addition to world class mangrove snorkelling at Whangateau Harbour, New Zealand's most pristine waterway and Matakana's best kept secret!
The Matakana Coast is also a big player in conservation and volunteering. Local volunteer led community groups maintain several Pest Free Mainland Sanctuaries along the coast; in the fight to restore and protect New Zealand's native species. Tāwharanui Open Sanctuary encompasses both a mainland pest free sanctuary and marine reserve, allowing both land and sea to be protected as one.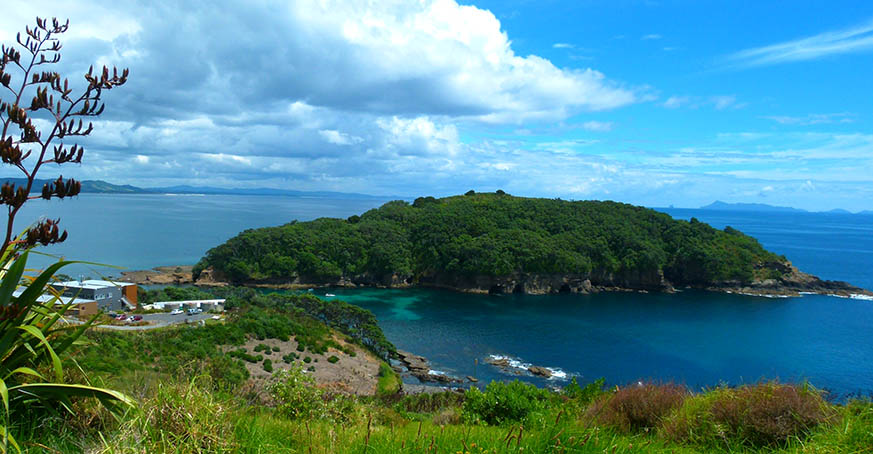 Goat Island
Goat Island is New Zealand's oldest and best known marine reserve, located 10 minutes' drive past Matakana Village. Back in the late 1960s local marine scientists working at Goat Island were principle in starting the marine reserve movement worldwide, and in 1975 Goat Island officially became the first! Today, Goat Island's thriving marine life coupled with its ever increasing visitor numbers are testament to the reserves success.
Goat Island is still home to an active scientific community with both an Auckland University research facility and the recent addition of the Marine Discovery Centre; a fantastic public marine education resource.
Snapper are the reserves most iconic residence, schools of juveniles right up to several 'granddaddy snapper' that are approximately 50 years old are all regularly sighted. Goat Island's marine life is plentiful and diverse and snorkelling the marine reserve is definitely the best way to get up close and experience its many underwater wonders.